What is an Apple ID?
Your Apple ID is a combination of an email address and a password that you use to access Apple services. It is possible to use Apple devices without an Apple ID, although you won't be able to access many of the benefits of the online services such as the app store, iTunes or iCloud.
Once you sign in using your Apple ID on your device, you have access to the following Apple features and services:
App Store – download apps from the app store
iTunes and Apple Music
iCloud – save your contacts, photos, calendars, notes, Game Centre, keychain and iCloud backup online
iMessage – send and receive messages with other Apple device users
FaceTime – call and video chat with other Apple device users
FindMyiPhone – if your Apple device gets lost or stolen you can view the last location of your device to help you find it. Also you can remote erase your data to keep your privacy if the device has been lost/stolen. With this feature turned on, it ensures that your device cannot be used by someone who does not know your Apple ID and password even if they restore it to factory settings
Creating an Apple ID
There are three ways to create your Apple ID.
Create it when setting up a new device
By Signing in to iTunes or iCloud for the first time
By visiting the Apple ID website
When Setting up a New Device
If you are setting up a new device, you click on the link "Don't have an Apple ID or forgot it?" and you will be directed to create a new Apple ID.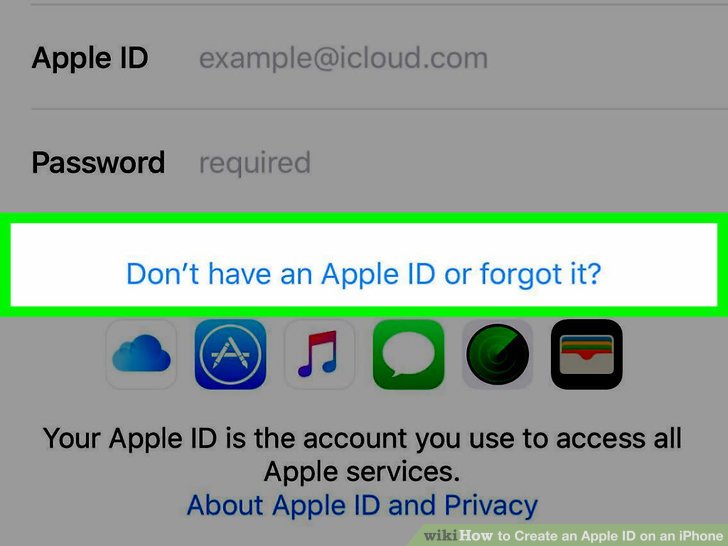 By Signing into iTunes or iCloud
When setting it up using iTunes on a Mac or PC, ensure you have the latest version and got to the menu bar on top of your computer, click on Account and select Sign In from the drop down menu and follow the instructions online. You can also set it up using iTunes Store app on your device, just scroll to the bottom and tap Sign In and Create New Apple ID.
By Visiting the Apple ID Website
Open a web browser and visit appleid.apple.com. Near the top of the page you can click on Create Your Apple ID and follow the process through.
Best Practises
When setting up your Apple ID, it is recommended that you have the following details on hand:
A valid email address – this is going to be your Apple ID username and you might be using it for a long time. It is best to use an email address that you will have access to for a long time – so using an email address for a workplace or one tied to a specific Internet provider might not be the best option.
A strong password – a minimum of 8 characters, a capital letter and a number/numbers. Anyone can forget a password so it's a good idea to write it down and keep a copy safe somewhere.
Your date of birth.
Three security questions and answers – choose 3 from a list of questions that the form will provide
Credit card details. You may have the option to choose "none" and not provide a card at all. Your credit card will never be charged for any purchase unless you explicitly agree to it.
Rescue email address. This is optional but highly recommended. If the email address used for your Apple ID is ever unreachable then your rescue email address can be used to recover your account easily.
DO NOT forget your Apple ID, password or the answers to the security questions as they are required when you set up a new device, make a purchase or use any Apple service. Forgetting your Apple ID password and not having access to the email address associated with it (and the rescue email address if it has been added) is a worst case scenario and could lead to losing access to your precious photos and other data.